Suspension
High-Performance Suspension
Great high-performance shocks or struts are essential in Mesquite, but when you are ready to take your car or truck suspension to the next level you need the experience of the auto repair mechanics at Affordable Kar Kare to get the job done right.
Coil Springs
Coil springs look exactly like a simple coil. Placed on the top of an axle your coil springs store and release the energy when your car or truck is in motion. The coil spring absorbs the shock of Mesquite potholes, speed bumps and other turbulent factors on track or rough terrain. Ensuring old springs are removed and new coils are aligned and fastened correctly is essential for maximum safety and handling. Trust the experienced auto repair specialists at Affordable Kar Kare at 222 S Galloway Ave for fast, affordable coil spring installation.
Frame Rails
Ready to race? Offset chassis are not permitted on many tracks and require drivers to install parallel frame rails. Chassis frame rails are built to strict guidelines to provide maximum stabilization in a left-hand turn. Let our expert mechanics at Affordable Kar Kare be your race team and make minute changes to the geometry of your suspension with frame rails to provide you with a total lower weight in the turns.
Leaf Springs
Trust the auto repair mechanics at Affordable Kar Kare to install this simple assembly that is the backbone of high-performance truck suspension. Absorb the shock of rough terrain when you are pushing your truck to its limit. These long, curved strips of steel are stacked in order of length and joined by a bolt at the center. Removing old rear axle springs can be a tough job and getting your new leaf springs bolted on tight is critical. The experienced professionals at Affordable Kar Kare are up for the task. Drop by the shop at 222 S Galloway Ave or give us a call at 972-329-0771 to set up an appointment to get your new leaf springs installed fast.
Lift Kits
Got massive monster tires? Truck owners in Mesquite come to Affordable Kar Kare to install high-performance lift kits that will increase clearance and provide that aggressive monster truck stance. Securely installing strut mounts, longer springs, new shocks, and a range of hardware to raise up your truck is a tough job. Precisely calibrating the ground clearance larger wheels need is important for optimal safety and performance. Trust the auto repair experts at Affordable Kar Kare to transform the look and function of your truck. Take on rugged terrain or just look cool when cruising by giving your truck a little lift. Call 972-329-0771 or stop by our auto repair shop at 222 S Galloway Ave to set up an appointment.
Lowering Kits For A Mean Sport Stance
Drivers in Mesquite come to Affordable Kar Kare to achieve that low-stance, high-performance sports car appearance and improve handling. At Affordable Kar Kare we replace stock springs with lowering springs that offer more coils in a condensed stack. Trust the expert mechanics at Affordable Kar Kare to create the correct amount of tension between the frame and the suspension system. Call Affordable Kar Kare at 972-329-0771 and schedule an appointment to install your lowering kit and shorten the distance between your car's body and the wheels to lessen the center of gravity and increase responsive handling.
Sway Bars
At Affordable Kar Kare we install sway bars to help driving enthusiasts in Mesquite grip corners more easily and reduce the demand placed on the springs and suspension system. Prevent body roll when driving aggressively in curves with cold-formed steel alloy sway bars installed with exacting precision to offer bilateral spring deflection. The expert mechanics at Affordable Kar Kare in Mesquite can help you decrease the load difference between the wheels inside and outside the curve by adding sway bars today. Get convenient, affordable fast auto repairs and sway bar installation for high-performance cars at Affordable Kar Kare every day. Call Affordable Kar Kare at 972-329-0771 or stop by our auto repair shop in Mesquite today.
Tie Rods
At Affordable Kar Kare we know driving enthusiasts in Mesquite demand more of their high-performance cars and trucks. When you turn a corner on Mesquite streets your front wheels pivot on steering knuckles connected to the steering rack. Your wheels are connected by the tie rod to the drag link bar to provide safety and handling in a turn. High-performance tie bars boast micro-adjustment options to make height and length adjustments between the tie rod and the wheel. The tie rod end that connects to the steering knuckle is susceptible to wear and failure with aggressive driving. Failure can throw off the car's alignment in a tight curve when the chassis of a car is under the most stress. High performance tie bar ends offer precision manufactured ball bearings to reduce wear and critical failures.
Wheelie Bars
These simple anti-roll devices look like casters connected to the rear bumper by long bars of flexible Chromoly tubing. Let Affordable Kar Kare be a part of your race team and install wheelie bars when you are ready to race. Wheelie bars take over in a skid and progressively unload the energy of the tire to keep a car right side up. Ready to add this important safety option to your car? Call Affordable Kar Kare at 972-329-0771 and let's talk wheelie bars.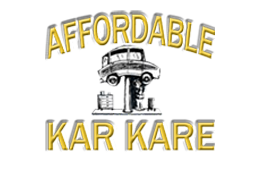 Tires
, near
Mesquite, Texas
The guys at Affordable Kar Kare were very friendly and knowledgeable. Got my tires done in a timely manner.
K Roberts
, 04/06/2023
join our team
We are currently on the lookout for the following: